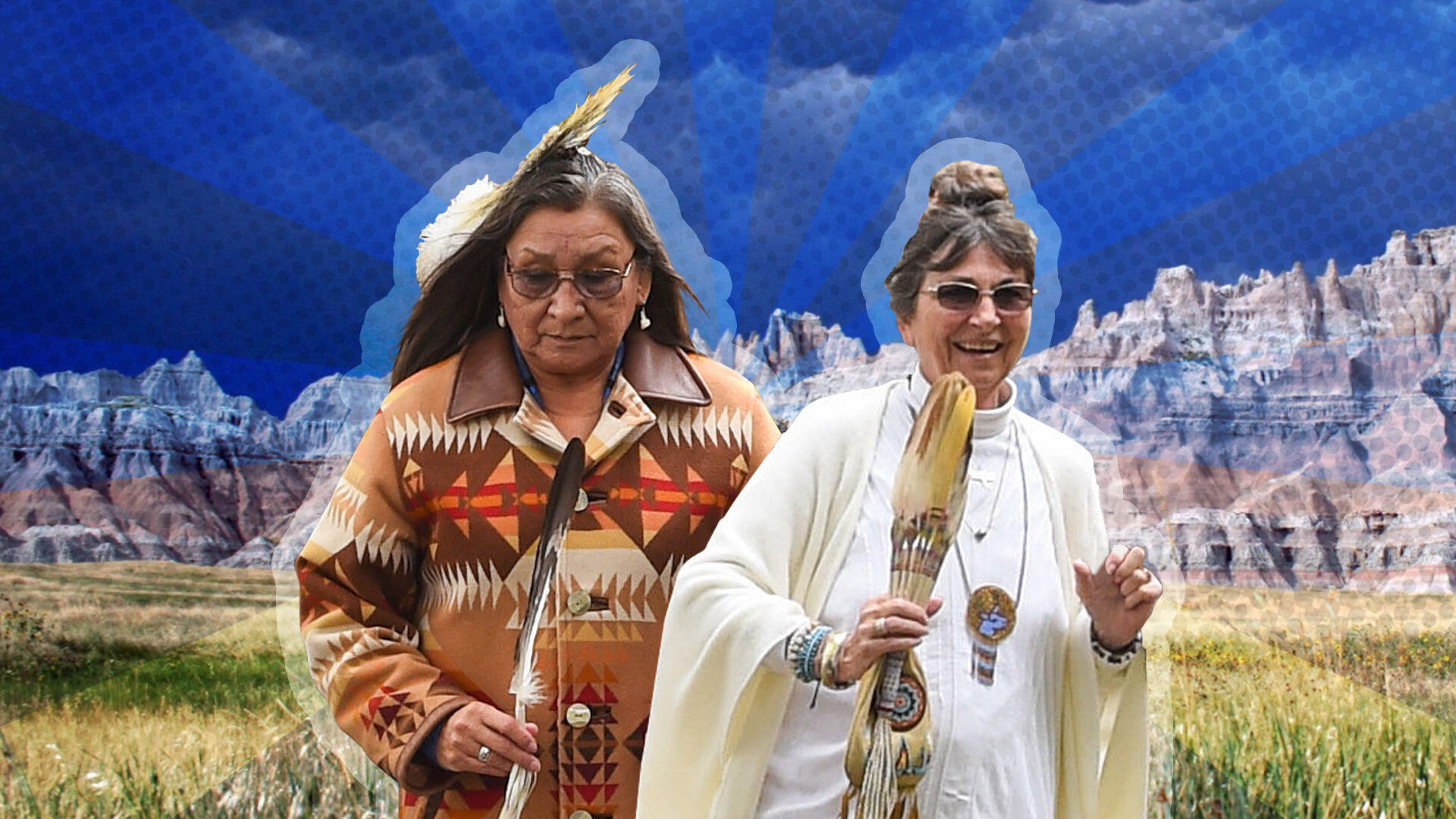 In times of chaos and trouble, look to the grandmothers for wisdom, compassion, and above all, patience.
On June 4th, a few days after protests against police brutality roiled across the country, I sat with Loretta Afraid of Bear Cook of the Oglala Sioux Nation and her sister Jyoti Ma, convener of the International Council of Thirteen Indigenous Grandmothers. We came together in a virtual circle of the sacred fire to better understand how to respond to these times of anger and confusion as we seek justice.
On the podcast, Loretta and Jyoti speak of patience and the right relationship with the Earth and all her creatures and peoples. We discuss our current cultural moment and what is being asked of us. Loretta shares deep wisdom about Oglala Sioux traditions, including the famous Sundance, a four-day ceremony of purification, and self-sacrifice. I ask how the children of colonizers can make amends, and also how to cultivate patience in the process of seeking justice without falling into passivity.
Loretta Afraid of Bear Cook is the faith keeper and holder of the Afraid of Bear/American Horse Sundance Pipe and has led Sundance with her husband Tom for the past 20 years. She is a cultural specialist on the board of The Paha Sapa Unity Alliance and The Black Hills Initiative, whose mission is to return the sacred Black Hills to the Great Sioux Nation.
Jyoti is the Grandmother Vision Keeper of the Center for Sacred Studies, through which she co-founded Kayumari, a spiritual community in both America and Europe. She helped to convene the International Council of Thirteen Indigenous Grandmothers and is the founder of The Fountain, whose mission is to restore an economic model that is based on reciprocity and collaboration.
Jyoti and Loretta both serve as delegates on the Mother Earth Delegation of United Indigenous Nations.
As you listen to this podcast, I invite you to make time for the wisdom of these grandmothers and utilize your own patience and humility for the complexity of their storytelling.
Timestamps
:11 – Open with a prayer

:19 – Jyoti Ma speaks of racial healing, from the white nation and black nation to the great-granddaughter of Custer begging for forgiveness from the Cheyenne

:35 – Loretta Afraid of Bear Cool speaks of patience and how her Oglala people carry a bundle in mourning until her throat stops hurting.

:46 – Loretta speaks of community: Community is the first tool of survival, Loretta speaks of all the important Oglala ceremonies from Tossing the Ball to the Sundance

:56 – The reason for the Sundance and the colors of the medicine wheel

1:04 – How can the children of colonizers make it right or at least walk with grace if we cannot make it right?

1:19 – Jyoti speaks of bringing Elders to festivals like Lightning in a Bottle

1:26 –  How do we cultivate patience without passivity?
Facebook Page for the show for tagging (@Life is a Festival)